What is a letter of recommendation? Why do we need someone to recommend us when we clearly have all the achievements on the record? Why do academic recommendation letters play a significant role in candidate validation? 
This blog takes you on a journey on what, how, and why LORs play an important role in your CAAPID application! We will also discuss the requirements for writing a letter of recommendation, how long the letter should be, and how to submit your LORs.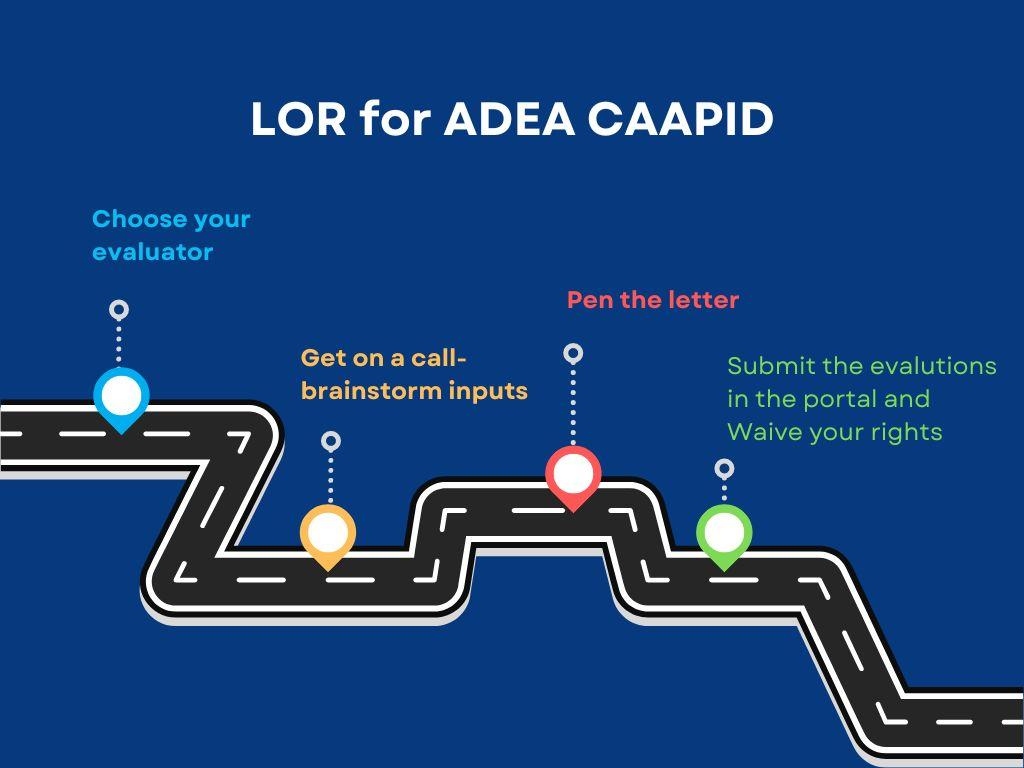 What is a letter of recommendation?
A letter of recommendation or evaluation is a document that provides insight into your clinical skills, academic achievements, communication and interpersonal skills, and professional ethics. It gives specific examples of your work and accomplishments and highlights areas where you excel. A strong evaluation letter can be an essential asset for dentists pursuing job opportunities or academic advancement.
Now that we have established the meaning of LORs let's delve into the specifications! Applying to an advanced dental program through ADEA involves several steps, including uploading your resume, TOEFL scores, a statement of purpose, and letters of recommendation.
Importance of a LOR:
An evaluator's assessment of your academic, interpersonal, and professional characteristics can offer valuable insights into your educational history that may not be evident in your CV. Selecting the appropriate evaluator is crucial. For your ADEA CAAPID application, you must provide up to three letters of evaluation.
Whom should I contact for a LOR?
A LOR is an assessment of your capabilities, skills, attitude, and character. Ideally, these letters should be written by individuals who know you well and can provide an evaluation of your skills, attitude, and personality. It is best if the recommender has a position of authority and has worked closely with you.
In a nutshell, from someone who knows you well!
A teacher, professor, mentor, or supervisor are all excellent candidates to provide a LOR, as they have had close interactions with you and can speak to your strengths and abilities.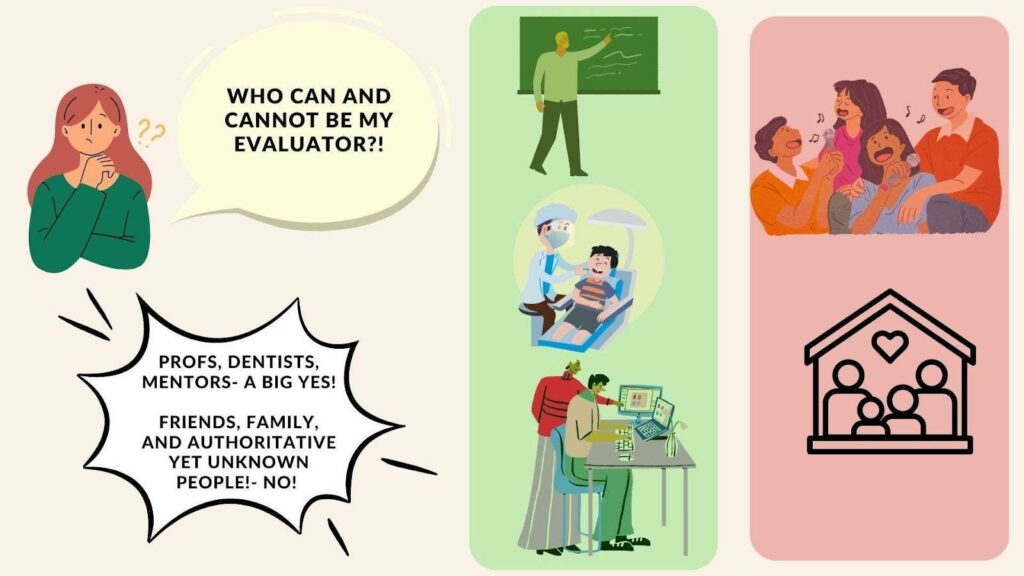 It is vital to ensure that the recommender is capable of presenting this information clearly, concisely, and convincingly and can write positively about you. It is also important to note that the recommender should not be a family member or personal friend.
So now that you know whom to ask for a LOR, let's talk about how and what to ask for precisely!
What to ask for?
After selecting your recommender, the first step is to confirm their availability to write you a letter of recommendation. Scheduling a call with them is an excellent way to start this process.
You may wonder why a phone call is necessary when you can simply email them the links for submitting the evaluation and include your CV. However, having a call with them is a good idea. This can transform a basic document into a compelling LOR. I'll explain how this simple step can make all the difference.
Your LOR writer can be someone you interact with daily at work or with whom you shared a part of your college experience years ago. Having a conversation with them over the phone can be highly beneficial. During the call, you can update them on your current whereabouts, explain why you chose to continue your education, and remind them why you selected them as your recommender. In doing so, you can highlight your skills, how you have grown professionally, and the progress you've made since you last interacted.
It's important to emphasize your achievements, whether your recommender is someone you knew years ago or someone you communicate with regularly. This is not bragging; reminding them of your capabilities is essential, primarily if they have taught many students like you and may have trouble recalling specific details about your experiences.
If the recommender is unavailable for a long conversation, do not worry. You can provide them with your updated CV, which should not simply list your experiences but also detail your roles and responsibilities in each particular position. This gives the recommender a clear picture of your capabilities.
To include your interpersonal skills and character into the LOR, you can add a few lines introducing yourself and describing who you are as a person and a professional at the beginning of your CV. A summary of your qualifications and a list of your relevant skills can follow this. Adding these three sections can help the recommender understand what to focus on while writing your LOR. Even if they have little time to read your entire CV, these sections will remind them of your abilities.
Examples: Introduction Section in the CV: 
A compassionate, proficient clinician with high caliber and efficiency to evolve and deliver multiple requirements in dentistry with utmost precision. Strive to strictly adhere to the ethics and evidence-based treatment modalities across every phase of patient care.
Summary Of Qualifications:
Specialized in the diagnosis of oral lesions both clinically and microscopically.  
Highly motivated, clinically proficient in all areas of dentistry, and experience in private practice and community health settings.
Relevant Skills   
Strong critical thinking, problem-solving, and decision-making skills.
Excellent communication and organizational skills with training and practice in India and the US.
Distinctly curious and open-minded in learning and updating with new techniques and software.
A compassionate individual with a thirst for helping others improve their quality of life.
It's important to keep in mind that even small interactions or situations you shared with your recommender can make a big difference in your LOR.
For instance, let's consider a scenario where you had to deal with a disruptive 5-year-old patient during a busy day at the clinic. You stepped in and managed to calm the child, ensuring a smooth procedure. This incident can be a testament to your ability to remain calm under pressure and empathize with others, which are valuable traits for a dentist.
It's possible that your recommender may not remember to bring up this particular incident, so don't hesitate to remind them of the situations you handled and how they reflect positively on your character. Keep in mind that even small interactions can speak volumes about your capabilities and should be considered when discussing your LOR with your evaluator.
As a recommender, what should you focus on?
It's essential to remember that your role as a recommender is to assess the suitability of the candidate rather than advocate for them. This means focusing on their qualifications, skill set, and interpersonal skills rather than providing details about their coursework, assignments, or job responsibilities.
To write a strong LOR, it's helpful to highlight the behaviors and characteristics that you have personally observed in the candidate and those that you have heard about from fellow faculty members. A well-rounded LOR will provide the application committee with a clear picture of the candidate as a person and a dentist. Therefore, it's essential to include details about the applicant's characteristics, critical thinking abilities, leadership qualities, and reasoning skills.
Some examples of things you could highlight in the LOR include the candidate's maturity in challenging situations, problem-solving skills, scientific inquiry abilities, adaptability, capacity for empathy, motivation for learning, and knowledge of the profession. These types of details can provide a complete understanding of the candidate's strengths and potential for success in their future endeavors.
Case one: Letter of Recommendation from the Dean of the Dental school
For the first case, where you are the recommender's Dean and haven't observed them closely enough, you can focus on their overall attributes and mention any aspect of their performance that brought glory to the institution. This could include their academic performance, volunteering, extracurricular activities, research experience/publications, and any remarks from fellow faculty. Essentially, you can talk about any notable achievements or contributions the recommender has made to the institution.
Case two: Letter of Recommendation from a Dentist being assisted/shadowed
In the second case, where the recommender has been shadowing or assisting you as an evaluator, you can provide more detailed feedback about their performance. Instead of just listing the dental procedures they helped with, you can mention specific instances and cases where they were involved and highlight their performance and contributions. For example, in a clinical setting, you could comment on their behavior with colleagues, proactiveness, and clinical experience. By providing specific criteria, you can give a more detailed and nuanced assessment of their abilities and potential.
Case three: Letter of Recommendation from Mentor/guide
Suppose you have been the candidate's mentor, guide, or professor and have had the opportunity to observe them closely for a period of time. In that case, you have likely had numerous interactions with them. In your letter of recommendation, you can highlight the candidate's strong attributes and their ability to multitask during the time that you worked with them. Additionally, you can comment on their basic characteristics and classroom behavior and include some remarks about their assessments. By drawing on your personal experience and interactions with the candidate, you can provide a well-rounded and informed assessment of their abilities and potential.
Quick Tips: 
When beginning your recommendation letter, it is important to introduce yourself and explain how you are associated with the candidate. You can also include a brief statement about the candidate's overall qualities. For example, "As a [your designation], it is my pleasure to write this letter of recommendation for [Candidate's Name]. I have had the opportunity to observe [him/her] over the course of [your time of association], and I can attest to [his/her] exceptional qualities as a dental professional."
In the conclusion of your letter, you should summarize the candidate's qualifications and explain why they are a good fit for the program. You may also wish the candidate well in their future endeavors. 
For example, "I have no doubt that [Candidate's Name] would make a valuable addition to your program. [He/She] has demonstrated a commitment to excellence and a passion for learning that will serve [him/her] well in [his/her] pursuit of a career in dentistry. I am confident that [he/she] will make the most of the opportunities afforded by your program and will make significant contributions to the field in the years to come. Please consider [him/her] for admission, and I wish [him/her] all the best in [his/her] future endeavors."
By providing a thoughtful and detailed evaluation of the candidate, you can help to strengthen their application and increase their chances of being accepted into the program.
Submitting to the ADEA Portal:
Once you have completed your evaluations, it is time to upload them to the relevant platform. One option is to visit the official website of ADEA, where you can find detailed instructions on submitting your letter of recommendation as part of your dental school application. These instructions will guide you through the process of uploading and submitting your letter to ensure that it is received and processed correctly.