Dentists fulfill a crucial role in their patient's healthcare team. Unlike many other careers in healthcare, a dentist provides you with the unique opportunity to maintain your overall health through good dental care. Dentistry is a calling more than just a career for many. The first step is, of course, choosing a dental school in USA.
Preparation for dental school in USA is overwhelming, and you toil for years to mold yourself into an ideal applicant. Nonetheless, when the time comes to send off these unique applications, the perplexing question dawns on which school to choose. From hefty application fees to narrowing down a list of dental school in USA to which you should actually apply can turn your dental school dreams into a nightmare. Fret not. We can help you with a lineup of concerns to seek while searching for your perfect dental school in USA.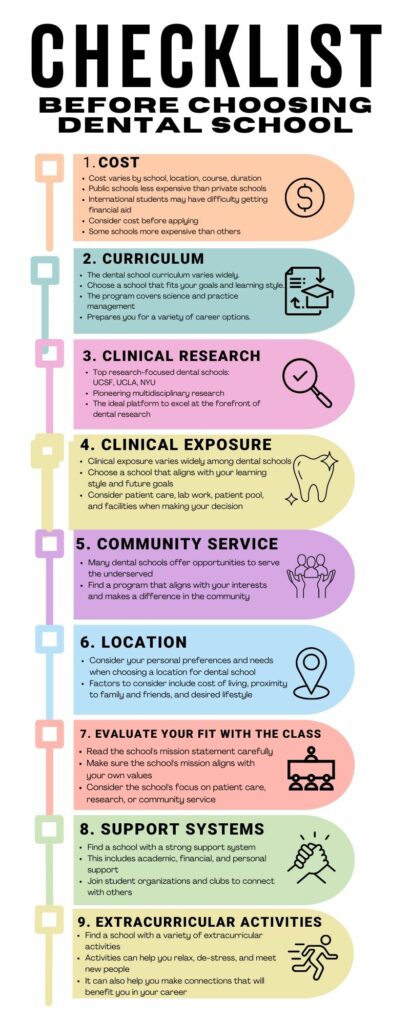 YOUR PREFERENCES in CHOOSING DENTAL SCHOOL IN USA
Think deeply about the instincts that motivate you to a specific dental school and ensure you return to that purpose as you research each dental school. This is a sure-shot question to place, as dental schools will ask why you decided on this school during the application and interview process.
Cost
The cost will vary depending on the schools, location and the course you choose, and its duration. Tuition fees differ across institutions. Besides, the price of books, food, accommodation, and expenses are variable. Public schools tend to be significantly less expensive than private schools. If cost is a significant factor, look into public state schools nationwide.
The downside of being an international student in dental school in the United States is that it is slightly difficult to get financial aid since you are not a U.S. or Canadian Citizen.
Many prospective dental students feel the gravity of the cost after their acceptance, contemplating declining and reapplying for an inexpensive option. Ideally, it is to decide prior to applying how much you are willing to pay for your dental education. Considering this factor would help you before choosing a better option for choosing the school.
Schools like NYU are way more costly when compared to LLU and SIU, besides the cost of living in the respective locations.
The Curriculum 
Some schools only focus on introductory science courses initially, while others blend them into clinical rotations. On the contrary, some schools mandate pre-clinical training before clinical.
The dental school curriculum varies by school and often changes. Consider your learning style and choose the one that aligns with your preferences. Besides, the curriculum drives you to your future plans for academic, clinical, or research plans. This narrows down your search, so you apply to schools that truly fit your interests and learning style.
This implies all of your career options after dental school, including private practice, academic dentistry, corporate firms, research, service in the federal government, and public health care policy.
Clinical Research 
Some schools are the epitome of research while ranking higher in clinical research. Schools like UCSF, UCLA, and NYU  are a few. The multidisciplinary research under the guidance of pioneers backed by ultramodern facilities is a perfect podium if you are to brace to the forefront of dentistry.
Clinical Exposure 
Some schools provide more hands-on training extensively. This could mean that the dental experiences are clinical or community-centric.
Some schools focus on patient care. You might find yourself doing more lab work at one school than another. The Loma Linda University School of Dentistry (LLU), CU School of Dental Medicine, has one of the best patient pools, which gives you a high-end experience on a wide array of cases to widen your clinical skills.
Schools vary widely in terms of facilities. CU School of Dental Medicine provides more than 100,000 clinical visits yearly at the facility. According to Dr. Leela, alums of CU, it has one of the best faculties, and labs are open 24/7, which is an alumnus considerable advantage to catching up on work and improving your hands-on experience. You get an unlimited number of typodont teeth for free.   Sometimes specifically, other schools may require you to pay extra money to use certain equipment or labs.
Community Services and Outreach Programs
If you have the traits for serving the community or working nearby to uplift the underreserved segment, schools like LLU, U Penn, and Buffalo are a few dental schools that can fulfill your interests. The Special Care Center for those with compromised abilities and comprehensive therapy is a specialty of  Penn School of Dental Medicine. Take a look at the opportunities available with various schools for you to get involved in advocacy efforts and care if you are interested. Research your preferences for community programs. It may be a free dental check-up at a local homeless shelter or an awareness program for young dental patients like school students on the significance of oral health and likewise.
Location
Remember, wherever you attend dental school, it is going to be your home for the next few years. Considering the geographic location of the school matters. It's well essential for your physical and mental health to be happy in your new place. Choosing one close to home or traveling across the country and living somewhere completely new is worth considering while eliminating the schools.
For instance, Loma Linda is one of the places where people follow a healthy lifestyle and live for more than a hundred years, like Japan. Choosing a school based on its name and reputation does not mean its location may be ideal for you to spend the most crucial years.
Evaluate your Fit with the Class
There is a lot to consider when evaluating your fit with the school. Class size could have a living impact on your learning. If you learn better in small groups, Attendinglooking for a school with a small class size and an intimate learning environment is significant. This offers individual attention and exponential clinical exposure.
 Makes sense. A diverse school regarding race/ethnicity, gender, culture, and nationality can infuse your education with another level of learning and understanding. If that is your preference, Loma Linda University, SIU, and the University of Buffalo resonate with you.UAB is renowned for its mission to remove barriers to careers in dentistry for underrepresented students.
Resonate the School's Ideologies with Yours
Many schools closely follow their missions when choosing which applicants they will accept. For example, students interested in working in a rural area after graduation should look for schools that have this focus in their mission. Mission statements describe each institution's values regarding the kinds of patients they serve, the dentists they graduate, and the practices they follow. When considering a school's mission, try to tie the critical points of the statement back to your values. If you can't relate to the task personally on a personal level, chances are the school isn't the right fit for you.
LLU is a school that emphasizes principles of faith and spirituality. It nurtures a culture where everyone feels valued and empowered to achieve individual and collective goals.
Support Systems
You may encounter that challenges across various phases of life. Personal, academic, financial, or health challenges and weaknesses, to name a few. As you are researching, you want to keep this idea in mind. Some particular support systems you might look for are a student health center, academic counseling, psychological counseling, mentoring, structured study groups, and professional career development programs like the American Students Dental Association (ASDA).
 The daycare facility at the University of South Carolina meets your childcare, preschool, and early education needs. It is a critical great convenience for students who struggle to manage their kids during their schedule.
Extracurricular Activities
You need a mental break every once in a while to revive yourself from the hectic routine. Nonetheless, you want to do something rejuvenating with the time you take for yourself. Consider what you would do outside of class and dental school activities when shortlisting schools.
The student organizations and accessibility to sports and recreational activities are to be undermined while shortlisting.UCLA  is one school that offers equal importance for curricular,  extracurricular, and recreational facilities. Fox movies theater within the UCLA campus, house parties, and outdoor activities are just a few on the list.
With that being said, don't let cutoff grades or other inhibitions deter you from applying to a school of your choice. You can use as broad a range of schools as you would like, but remember; the application process is a time, financial and emotional investment. The application process is quite unpredictable. So keep an open mind and a positive attitude throughout the process.
Everyone has their weaknesses! Being able to overcome those weaknesses is what schools are looking for in their prospective students. The goal of every dental school is to create a competent dentist. You'll achieve that goal at any school.