Let's start with the basics!

What is an ECE report? 
When an international dental student applies to the U.S., they may come from any of the 183 countries around the world. Each college might have a different method of evaluation and grading dentist in their semester exams.
It becomes difficult for admissions committees to assess whether a 7.8 GPA in King Abdul Aziz University in Saudi Arabia is the same as a 7.8 GPA in D.Y. Patil University in India, and you know firsthand that they aren't the same. 
Since schools can't compare whether the GPA scores published by international colleges are equivalent, they outsource that work to a 3rd party organization. This company known as ECE (Educational Credential Evaluators) develops a framework to make an estimate of what your international GPA would be if it were converted to the U.S. '4' point scale based on the credibility of your college, meritocracy of your grading system and competitiveness to secure that score in your country and university. 
While you may expect a 7.5/10 international GPA is a 3/4 U.S. GPA, it isn't. Depending on the university you went to, the country you came from, and the year you graduated it could be anywhere between 2.5 and 3.8 on the ECE report. In order to do this complex math, the ECE company charges applicants who want their score evaluated and add a fee for every school you want the score forwarded to. 
Why would you incur a cost to send your score to every school, when it can just be sent over an email? The answer to that even we don't know! Maybe because it is easy to extort desperate international dentists given their desperation to access opportunities in the U.S.
TL;DR on what ECE is
Its the process of evaluating and verifying foreign educational credentials

It assesses your degrees and transcripts from your non-US college

ECE determines the equivalent of your foreign score per US standards

You can't apply to US schools without an ECE evaluation

It is meant to assure your admission committee that your foreign education is compatible with the quality expectations of an American program
Why is it required? 
ECE is not just meant for dental school. Anyone in the U.S. that needs to know your academic proficienty can demand your ECE score. This could be your Advanced Standing Program, your Residency program, your employer, or the board that is evaluating you for licensing requirements.
Key advantages of having an ECE score
No hassle:

You save yourself from translating what your international GPA means to an American admissions committtee or employer

Equivalence:

You can get a score from your home country converted to an American GPA (grade point average) metric

You are assured that your educational credentials have been assessed through a

standardized process

and isn't open to interpretation per U.S. standards 

It allows schools and companies

fairly evaluate your academic performance

and understand the level of your achievements
Is ECE my only option?
No, you have many alternatives to ECE that you can use to get your foreign educational credential evaluated. The primary restriction comes from the schools you are applying to. Most schools that offer the advanced standing program only accept the ECE evaluation. Few others accept WES., and very few accept alternatives to these two. The restriction of choice happens to be your biggest barrier in comparing options and choosing one that fits your needs.
There are a couple of reasons why ECE is popular among schools
Realtime customer support

: ECE offers assistance by email and chat 24*7

5-day turnaround

: ECE has the right technology and staff to get your report processed and verified pretty quickly

Pedigree:

To its credit, ECE has processed evaluations for over 35,000 international applicants until 2022

Living by huge standards:

ECE credits itself to holding integrity and quality administered through rigorous, standardized quality control processes 
What are the steps to apply for your ECE report if you are an international dentist?
Step 1: Sign up and Onboard
Create an account on the ECE website

Enter all of your educational information, including your degrees, courses, and grades.
Also, mention your name and ECE reference number in the email.
Step 2:  Select the "Course by Course" evaluation option
Step 3: Submit required documents
Documents you will need to submit for your ECE evaluation:

Grade 10 and 12 certificates (Not required for dentists from India and a few countries)

Degree Certificate from your home country's colleges

Official transcript from your undergraduate and postgraduate education

Internship Completion Certificate (if the internship was required for the qualification)

You need to postal

-MAIL them. ECE stopped accepting electronic mail unless it is sent by the institution using tools like Trucopy
Step 4: Complete and Wait
After paying for the evaluation, and submitting your documentation on the ECE portal, wait for up to five days before receiving your report, and immediately start submitting the school you intend to apply to 
Keep in mind, that your ECE report is only 1 among 17 things you will have to submit through the CAAPID portal to get into school. Given how simple the ECE submission process is, you'd want to knock that out of the park sooner. As always, submitting your scores early will give you an edge in admissions.
Types of ECE reports
Each university and program that you apply to may require a different kind of report. If you are sure that you are applying only to the Advanced Standing International Dental Program, then you only need to order the Course-by-Course report. If you, however were considering other graduate programs, the table below guides you on options available – 
| | | |
| --- | --- | --- |
| Type | Cost | Features |
| General | $100 | Confirms the authenticity of academic documents and recognizes the status of your institution and the equivalency of your program of study |
| General with Grade Average | $130 | Same features as General but adds a cumulative GPA |
| Course-by-Course | $195 | Provides information on all of your individual coursework including the U.S. or Canadian equivalent course title, grade, and credits. The validity of the Course by Course Report is one year. |
Key requirement 
ADEA CAAPID only accepts ECE reports that have been completed within the

last five years

. Your ECE score needs to be valid until the month you matriculate (enter start your program)

If you have an older ECE report, you will need to have it updated before you can submit it to the ADEA CAAPID.
What will your ECE report include
Your ECE report will include the U.S. equivalence for each program you completed

It will provide your credit an grade equivalent, along with your GPA (grade average)

It will identify your upper level courses for professional studies like DDS

Here are

the Sample Report

and the link to

apply online
Steps to apply for the ECE report if you are applying for CAAPID
Log in to your ECE® account

Complete the online application for an ECE® Course by Course evaluation report.
An official copy for CAAPID will be added to your order
After you submit your application and payment, arrange for your educational documents to be delivered to ECE according to the ECE® country-specific documentation requirements:
Review your specific documentation requirements by selecting your country of education below.
How to order copies of your ECE report
Step 1: Go to the ECE website
Step 2 : Click on Applicants to US Institutions
Step 3 : Scroll down and click on the 'for further education option
Step 4 : Click on the Course-by-Course option in the first step, and then click on the Apply Online button that appears with the price of the Evaluation Report.
Step  5 : Click on create an account or login with your existing credentials
Step 6 : After clicking on create an account, click on For Individua
Step 7: Refer to your passport and fill out your credentials. Click on I'm not a robot and then submit.
Step 8 : Once you submit the form, you'll get an email to activate your ECE account. Activate your account, log in using your credentials, and click on the US Evaluation Report Application option.
After that, fill in all the details as asked in the form and submit the form along with the request to send the ECE report to JCNDE, Junior Commission of Dental Examination.
Once the JCNDE/ADA accepts your application, you will get a confirmation email.
Conclusion
After obtaining a confirmation, you can now apply for the INBDE exam and start your preparations.
INBDE is a written and pass/fail type examination that is not easy to crack. You can find the best study material for INBDE on Meriters. It is the most trusted source by international dental students and dentists to prepare for the exam.
Evaluated Dental School Transcripts
Submit your dental school academic record (transcript) to Education Credential Evaluators (ECE) or World Education Services (WES) and request a course-by-course (not summary) evaluation of your record. NOTE: If your transcript is not in English, it must be translated into
English as well as evaluated on a course-by-course basis.
ADEA CAAPID will distribute a copy of your original WES or ECE course-by-course evaluation in English to each program selected. To request an original WES or ECE evaluation, go to the preferred service's website, create an account, and follow the instructions provided for submitting your documents for evaluation and translation into English.
If the required course-by-course evaluated transcript is NOT received, your application will be considered incomplete until the document arrives at ADEA CAAPID.

Send the Transcript Matching Form to ADEA CAAPID along with your ECE or WES course-by-course evaluation. The omission of the Transcript Matching Form may delay the processing of your ADEA CAAPID application, particularly if you used another name while

attending dental school.

Keep the evaluation in a closed envelope and place the Transcript Matching Form along with the evaluation in another envelope before mailing the document to ADEA CAAPID.

Dental school ECE or WES course-by-course evaluations may be submitted with the application or sent directly to ADEA CAAPID by ECE or WES. Applicants can check to see if ADEA CAAPID has received the evaluated transcript by monitoring the Status section of the

ADEA CAAPID application.

The dental school ECE or WES course-by-course evaluation must be received to complete your ADEA CAAPID application.

Only send one copy of your ECE or WES evaluation. If you are applying to 1 or 10 programs, only one copy will be accepted.

If you send an ECE or WES evaluation to ADEA CAAPID they will be sent to all programs which you have designated. Some programs may only accept the ECE or WES, but if both are sent to ADEA CAAPID both will be sent to all programs designated.

Evaluations should be mailed to CAAPID Processing Department,

PO Box 9116, Watertown, MA 02471.
If You Cannot Submit an Original Course-by-Course Evaluation Occasionally, applicants who apply to advanced placement programs may be unable to obtain an official transcript to be submitted for evaluation. This can occur, for example, when an educational institution closes, or due to conflict or other extenuating circumstances.
If the applicant is unable to have an original dental school transcript submitted to WES or ECE to be evaluated course-by-course, select "Request for Exception" in the Colleges and Universities/Dental Schools Attended Section. The applicant will then be prompted to provide an explanation about why a transcript is not available. This explanation will be distributed to each program selected.
Helpful Hints
ADEA CAAPID is not responsible for any late submission of documents from the applicant. Once your application is submitted, refunds cannot be granted.

As documents arrive, the ADEA CAAPID staff will update the status of your application. To ensure that you meet all ADEA CAAPID deadlines, you will need to login and monitor the status of your application.

ADEA CAAPID is not responsible for contacting applicants regarding missing documents.
If you would like to learn more about ECE and their services, you can visit their website for many helpful resources. If you're ready to apply, get started now!
NAVIGATING THE ECE APPLICATION MAZE: OVERCOMING ROADBLOCKS AND FINDING SOLUTIONS
The ECE application process may be straightforward but I faced a few minor roadblocks. Given below are three takeaways from my experience
 Mail the documents to ECE 'after' the completion of your ECE application
Upon completing the application, you'll have the option to download a 'Document Matching Form,' which should accompany your documents. This form contains a unique reference number that must be mentioned on the envelope to facilitate proper identification and linking with your application. While not fulfilling these requisites won't be a deal-breaker, it may cause a slight processing delay of a few business days. Rest assured, ECE can utilize your demographic data to link your application and documents. Should you encounter any concerns, promptly notify a customer care expert from ECE, eliminating the need to mail your Document Matching Form separately.
Double-check the breakdown of the cost for the requested service
In some cases, inherent errors may lead to incorrect charges for an entire evaluation when you only requested a report update. If you encounter such a situation, reach out to ECE's customer care to express your concern. They will likely suggest selecting the 'Pay by cheque ' option, allowing time to address the issue without immediate payment. Following this, ECE will email you a link with the revised cost, facilitating regular payment using a debit/credit card.
Ensure that the email address associated with your ECE account and ADEA CAAPID account are one and the same.
To request an electronic ECE report to be sent directly to ADEA CAAPID, access ECE's official website through the 'Schools Attended' section of your ADEA CAAPID application. Once you log in to your ECE account, ADEA CAAPID will automatically be enlisted as a recipient. However, if you don't see this automated enlistment, it might be due to your ECE and ADEA CAAPID accounts being affiliated with different email addresses. To avoid any complications, ensure that both email addresses match to resolve this issue promptly.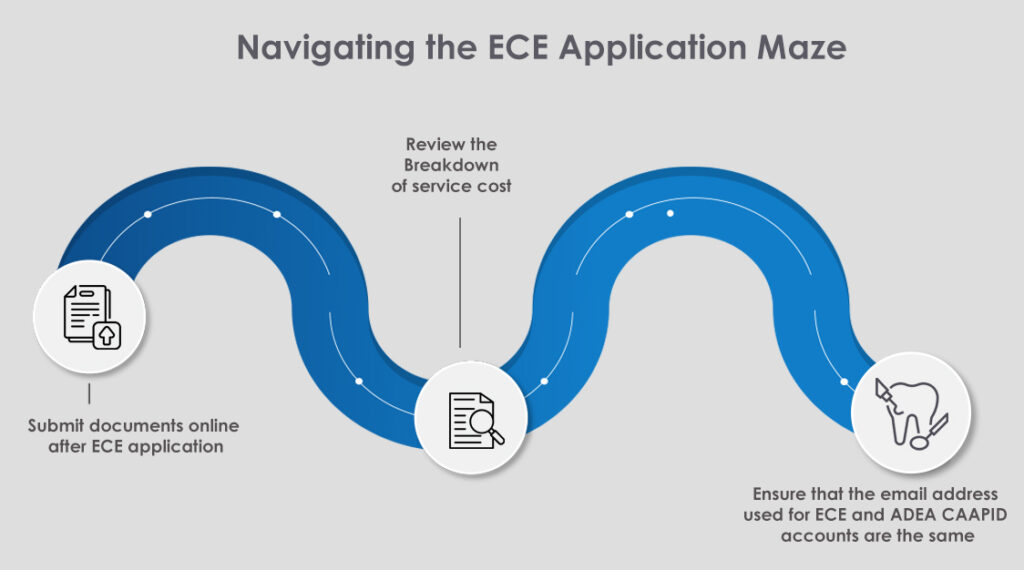 FAQs – Education Credential Evaluation
What is the difference between university-attested and notarized copies of transcripts?
        Notarizing documents can be carried out in public notary offices and post offices where an official assigns a 'True copy' status to the document that you submit. While this method of validation is accepted while uploading a soft copy of your diploma on ADEA CAAPID, the same cannot be said for ECE.

        ECE allows you to send either original documents or 'university-attested' copies of these documents for evaluation. The latter refers to documents that are sealed by the autonomous parent university to validate them. In addition, these attested copies must be placed in an envelope with the university's seal on it and must not be tampered with before being mailed to ECE.
Is it necessary to re-submit the documents for an evaluation once the 5-year validity of the report lapses?
        Yes, you need to re-submit your documents once the 5-year mark has lapsed as ECE does not retain any record for more than 5 years.
Can Canadian evaluation reports be used in place of US reports?
The ECE reports meant for Canadian institutions or Canadian immigration cannot be used for the purpose of applying to dental schools in the United States of America. You are required to place an order specifically for the United States.

Note that evaluation reports are not to be confused with transcripts. If you graduated from an English-speaking Canadian institution, your 'transcripts' can be sent directly to ADEA CAAPID, or the American dental school of choice as requested. There is no need for your transcripts to be evaluated by ECE.

However, if you graduated from a French-speaking Canadian institution, your transcripts need to be evaluated by ECE.
What are the schools that do not accept ECE?
Can I send my documents electronically?
Yes, this can be arranged through services such as True Copy and Worldwide Transcripts. Refer to the following page for additional details and links on the process involved:

ECE Credentials Evaluation
What happens if I forget to add the document matching form and unique ID respectively?
This is not a deal-breaker as there are other parameters that you would have provided to link your mailed documents with the application such as name and date of birth.

However, this can increase the time taken to complete the evaluation of your transcripts.  

Is it compulsory to have all my transcripts evaluated irrespective of the field of study?
Credential evaluation must be carried out for all the educational programs mentioned in your application provided they were completed in a country outside the United States of America/English-speaking Canadian Institution.

 
How do I find out whether ADEA CAAPID has received my ECE report?
Once you log in to your ADEA CAAPID account, click the 'Check Status' button on the top right corner of the dashboard.

If ADEA has received your ECE report and linked the same to your account, it will be denoted by 'Transcripts- Arrived.'

You will also receive a notification stating that 'A foreign transcript evaluation was received for your ADEA CAAPID application.

Note that this process may take 7 to 10 business days from ordering the report.
Why am I unable to find CAAPID under the list of recipients while ordering my ECE report?
This can be attributed to the fact that the applicant needs to order the ECE report through their ADEA CAAPID account.

Once you log in to your ADEA CAAPID account, go to Academic History. Next, select the sub-section labeled 'Colleges Attended'.

Once you enter the required details and scroll down, you will be provided with a toggle to add your transcript. Clicking it will allow you to choose between ECE and WES.

Choosing ECE will automatically redirect you to their official website where you can log in and proceed to order your report.

Note that the email address linked to your ECE account and ADEA CAAPID account must be the same, failing which your report/reports will not be linked to your ADEA CAAPID account.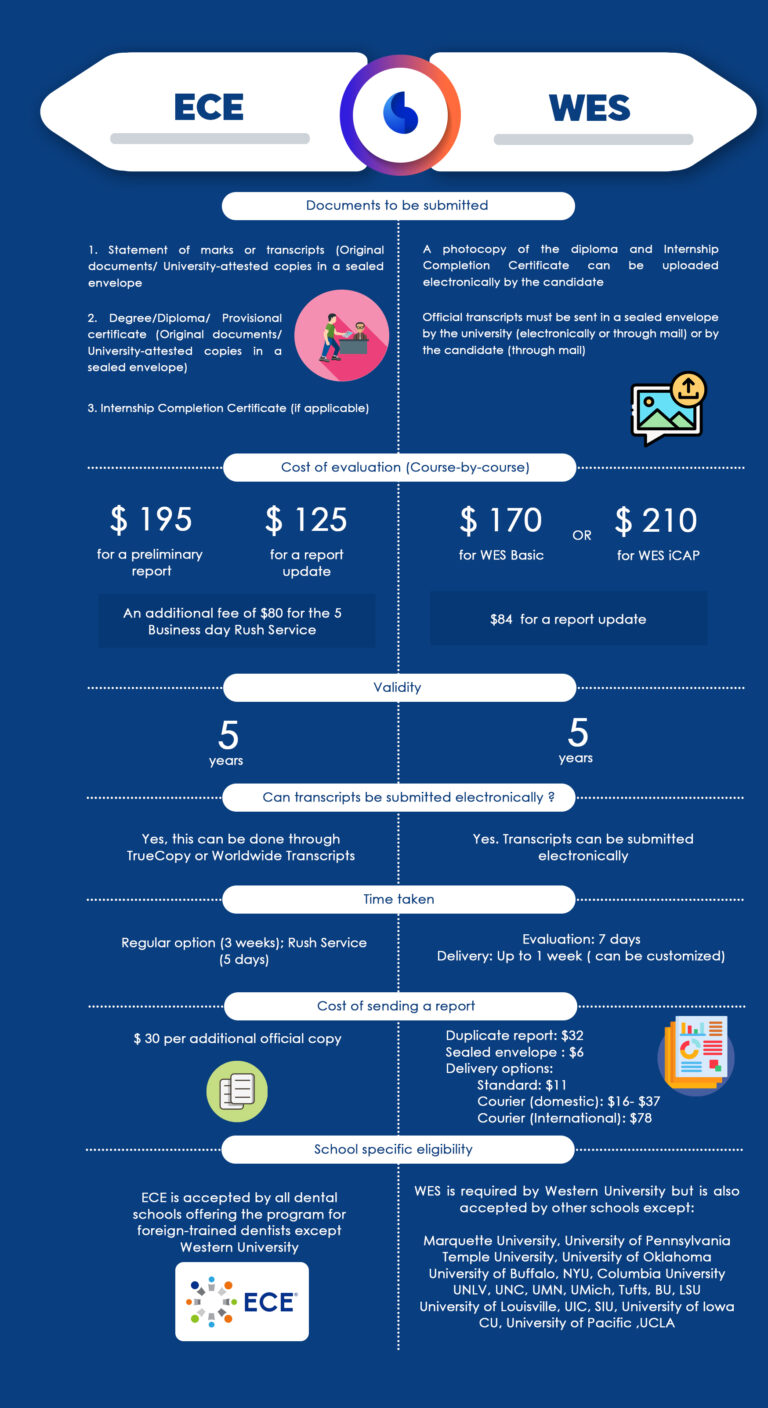 Criteria 

ECE

WES

Documents to be submitted 

Statement of marks or transcripts (Original documents/ University-attested copies in a sealed envelope 

Degree/Diploma/ Provisional certificate (Original documents/ University-attested copies in a sealed envelope)

Internship Completion Certificate (if applicable)

A photocopy of the diploma and Internship Completion Certificate can be uploaded electronically by the candidate 

Official transcripts must be sent in a sealed envelope by the university (electronically or through mail) or by the candidate (through mail)

Cost of evaluation (Course-by-course)

$ 195

for a preliminary report

$ 125

for a report update

An additional fee of

$80

for the 5 Business day Rush Service

$170

for WES Basic or

$210

for WES iCAP

$84

 

for a report update

Validity

5 years 

5 years 

Can transcripts be submitted electronically ?

Yes, this can be done through TrueCopy or Worldwide Transcripts

Yes. Transcripts can be submitted electronically 

Time taken 

Regular option (3 weeks); Rush Service (5 days)

Evaluation: 7 days 

Delivery: Up to 1 week ( can be customized)

Cost of sending a report 

$ 30

per additional official copy 

Duplicate report:

$32

Sealed envelope :

$6

Delivery options: 

Standard:

$11

Courier (domestic):

$16- $37

Courier (International):

$78

School specific eligibility

ECE is accepted by all dental schools offering the program for foreign-trained dentists except Western University 

WES is required by Western University but is also accepted by other schools except:

Marquette University

University of Pennsylvania 

Temple University

University of Oklahoma 

University of Buffalo

NYU

Columbia University

UNLV

UNC

UMN

UMich

Tufts

BU

LSU

University of Louisville

UIC

SIU

University of Iowa

CU

University of Pacific

UCLA