Through the dark, mystifying corridors of the Internet, a lost dental applicant looks for a click, a click that will, hopefully, lead them to the answers to their aspirations. But the internet is a weird place, and its bounties are often very scattered. If you take its aid to realize your American Dental dream, the massive wave of information that hits you can be too overwhelming. Your questions often go unanswered since what you see on the screen is too general. One of the more specific questions we try to answer with this blog is the mystery surrounding the Advanced Dental Admission Test or the ADAT. Is it different from the INBDE? If it is, then how so?
What is ADAT? 
The ADAT is a nationally standardized and objective admission test designed as a requirement for many advanced dental education programs in the USA in conjunction with other admission tools that provide an overview of a candidate's qualifications as it is tailored to the core program requirements. It is also required by a few residency programs in the US.
The structure of the ADAT
The ADAT is composed of multiple-choice test questions (items) in English.
It consists of the following three sections: Biomedical Sciences; Clinical Sciences; Data, Research Interpretation, and Evidence-Based Dentistry. 
The exam is a 4 hrs and 30 min exam with a specific number of questions from each of the three sections:
Biomedical science- 80 questions in a 95 min interval
Clinical sciences – 80 questions in a 90 min interval
Data, Research, and Evidence-based Dentistry- 40 questions in a 45 min interval.
Significance of the ADAT test and who should take it?
The ADA created the ADAT for the express purpose of helping dental programs in the USA select the best-qualified applicants- generally for residency/ postgraduate applications. When the NBDE was changed to a pass/fail exam format, the program directors lost the power to make decisions on the admission process. The ADAT is the test to give them that power back since it is a score-based exam. Unlike the INBDE, which is designed only for licensure decisions and tests the minimum basic knowledge needed to be a safe beginning practitioner from those who do not know the minimum, the ADAT is a more advanced exam in terms of the syllabus as it selects applicants for further steps in their professional career.
More than 400 advanced dental programs recognize the ADAT exam score as a compulsory or optional requirement. You can consult the current ADAT Program List to see how each program plans to use ADAT scores. 
If a program is not listed, they have not shared its intended ADAT use with the ADA. In that case, contact the program directly for more information. 
All programs have electronic access to ADAT scores.
So, who runs the show?
A boatload of acronyms is coming your way. Ready? Here we go! The ADAT is governed by the American Dental Association's (ADAs) Council on Dental Education and Licensure (CDEL). The ADAT is implemented by the Department of Testing Services (DTS), which is a shared service of the American Dental Association. Examinations are administered by Pearson VUE (Administration Vendor) at their certified test centers.
Next up, we discuss eligibility. 
ADAT guide says that Dental students and dentists currently in practice who will graduate or have graduated from a Non-CODA accredited school are eligible to take the test. CODA is the Commission of Dental Accreditation, which provides US-based dental schools with certifications. International students and dentists like you, the reader, fall into the Non-CODA category.
For an international dental student applying for the test, the student must submit:
 Their school completes a Certification of Eligibility Form. The completed form must include the seal of the university and the signature of the dean or registrar.
The student must also request that an Educational Credential Evaluators (ECE) report be sent directly to the ADAT Program. 
An International dentist does not need a Certification of Eligibility form, but they need to have an official dental school transcript verified by the ECE.
Before verifying these transcripts a candidate(student or dentist) must register for a DENTPIN number. More on that in the following section on how to apply.
How to apply for the ADAT test?
As discussed in the previous section, a candidate must register for a Dental Personal Identification Number (DENTPIN®). Register for a new DENTPIN or retrieve an existing DENTPIN at  ADA.org/DENTPIN. Your DENTPIN is a personal identification number, just like a voter ID assigned to you by the ADA as a dental exam candidate used by the U.S. dental education system and standardized testing programs to confidentially and securely report, transmit, and track test scores and academic data. Once a DENTPIN is provided, candidates can apply through the examination program website. A new application must be submitted before each testing attempt. Application processing takes place Monday through Friday during standard business hours. After the application has been processed, candidates will be eligible to take the test for a six-month window, unless other considerations (including retest rules and requirements) limit the eligibility period to a shorter time frame. Changes and corrections to the application must be completed at least two weeks before a scheduled testing appointment. Candidates are responsible for identifying any modifications or omissions and must notify the testing program at dentpin@ada.org. You need to confirm your eligibility before scheduling your test. Before you can schedule your test, you must receive eligibility confirmation via email from the Department of Testing Services.  
The test is administered in a specific window and not all year round. This year(2022) it is being conducted from March 31st, 2022, to August 31st, 2022.  The ADA website recommends sending in applications 60 days prior to the date you intend to give the test. The test centers are run by Pearson VUE, a company that runs test centers all over the US and Canada. To book a test center in the candidate's preferred location in the US or Canada, they have to create an account on the Pearson VUE website, which will require the candidate's DENTPIN number.
Here are other important details pertaining to the test
The ADAT fees
 For the test in the year 2022, the fee is $400, which is non-refundable and non-transferable. This fee includes administration and official score reporting to all dental schools and programs selected at application. You can choose multiple programs at the time of application at no additional cost, and any changes made after application submission will incur extra charges.
Scoring
Scores are calculated based on the responses given and the question's level of difficulty. There are no negative marks for incorrect guesses. The scores aren't calculated as raw scores but rather as scale scores. Scores range from 200 to 800, with a target mean of 500. Each advanced dental education program makes its determination as to what constitutes acceptable scores on the ADAT. There is no official "passing score" for the ADAT.
ADAT results are reported electronically within three to four weeks of a candidate's test date. 
Results are posted to the My Account page associated with a candidate's DENTPIN® and sent to the advanced dental education programs selected on the candidate's ADAT application. 
Results are reported electronically to the advanced dental education programs selected by a candidate during their ADAT application. The candidate grants the ADAT Program permission to release their results to these entities by making these selections. 
Candidates can review the selected programs by logging into the My Account page and clicking "Display" next to their application.
Candidates who request that their results be shared with an advanced dental education program will also have their results shared with the American Dental Education Association Postdoctoral Application Support Service (ADEA PASS), which benefits the applicants by providing them with a single complete standardized application rather than individual applications to each program. It also helps the dental program conductors select applicants as it assigns uniform parameters for each candidate to be assessed against.
At least one advanced dental education program must be selected as a results recipient for scores to be sent to ADEA PASS.
Study material
There is no specific study material pertaining to the exam, but many participants swear by the ADAT Knockout test, which provides mock questions with explanations for answers. For the Biostatics section, First AID for the USMLE Step 1 is also a good source. 
The ADA website also has a convoluted list of more-than-abundant Reference Texts for the Advanced Dental Admissions Test (ADAT)
Here at Caapid Simplified, we have listened to reviews by many applicants and have curated a list of questions to include in our Mock Test pertaining to the exam.
 This test would help assess your clinical knowledge and boost your potential to score higher on your ADAT. Enroll for our online mock test by clicking on Caapid Simplified – Services
That's all for a not-so-brief overview of the ADAT. I hope it helped you in your quest for information, and the metaphorical corridors look a little brighter now.
Here's to wishing your aspirations grow more robust and your dreams manifest into reality. Soldier on!
For personal queries, visit the ADAT website or check their ADAT Candidate guide.
Steps involved in sending INBDE/ADAT Report to ADEA CAAPID – Caapid Simplified
INBDE VS ADAT
INBDE

ADAT 

Integrated National Board Dental Examination- Offered in Prometric Centres in USA and Canada

Advanced Dental Admissions Test- Offered in Pearson Vue Testing Centres in USA and Canada from March 1 2023 through August 31

st

2023 

History

In the books since 2009

First administration in 2020

Replaced the conventional exam administration which involved two parts 

Significance 

Stepping-stone to licensure for conventional DMD students 

Mandatory requirement for applying to Advanced Standing Programs for International dentists. 

Significance

No universal mandate 

Recommended for AS programs at UMich and UPitt

Requirement for AS programs in some Canadian dental schools 

Requirement for applying to some residency programs in American dental schools 

Eligibility requirements 

Must have completed the required coursework at dental school : essentially the course requirements of the first four academic years. 

Eligibility requirements

Must have completed the required coursework at dental school : essentially the course requirements of the first four academic years.

Steps in registration (for current students and graduates)

DENTPIN

ECE Evaluation (to JCNDE)

Eligibility form (for current students)

Attainment of eligibility 

Application 

Choice of testing centre and dates (Day 1 and Day 2 shouldn't be apart by more than 7 days and must be taken at the same centre)

Similar to the process followed for the INBDE 

Preparation

Mosby's

Dental Decks 

First Aid

Bootcamp

Mental Dental 

Dental Mastery 

Facebook/Telegram groups 

Preparation

Mosby's

Dental Decks 

First Aid

Mental Dental 

ADAT Knockout

Crack ADAT

Facebook/Telegram groups 

Test Day- tips (and a run through of the process)

Report half an hour in advance to the centre to submit your ID and stow away your belongings. 

ID: Passport and Driver's License/ Credit or Debit card/PAN card 

Only ID and scratch paper permitted inside the centres.

Abide by the testing rules.

Make use of the scheduled breaks 

Test Day- tips (and a run through of the process)

Report half an hour in advance to the centre to submit your ID and stow away your belongings. 

ID: Passport and Driver's License/ Credit or Debit card/PAN card 

Only ID and scratch paper permitted inside the centres.

Abide by the testing rules.

Make use of the scheduled breaks 

Results and Interpretation

Pass/Fail

Must pass the exam within first five attempts/ five years from the first attempt, after which testing is limited to once in 12 months 

Window for re-testing: 60 days after first attempt

Testing is permitted 4 times per year 

Results and Interpretation

Total score out of 800

Individual section scores out of 800 and percentile 

Candidates who apply to retest much wait at least 45 days between testing attempts and are limited to two testing attempts per calendar year. Candidates who have taken the ADAT two or more times previously will be limited to one testing attempt per calendar year, and will need to submit evidence that they have actively applied to advanced dental educations programs within the previous 18 months
Personal Experience by Dr. Aditi Karthikeyan


ADAT- Test Day Tips 
Make cheat sheets or index cards to revise from instead of cramming new information on the day of the exam 

Spend an hour going through practice questions that you previously had trouble with if you feel the need to revise. 

What do I carry to the test center (A checklist)

Two forms of identification (Passport/ Driver's License/ Credit Card/ Debit Card/ PAN card): Must be government issued with your full name and signature on it. 

Water

Cheat sheets for revision/ other preparatory material

Fruits/ Candies/ Granola bars/ sugar sachets/ juice boxes (Anything rich in glucose)

Lunch (Note: Egg salads don't sit well in the locker )

Pain killers, antacids, anti-emetics

Arrive at the exam center 30 to 45 minutes prior to the start of your exam. This will give you ample time for identity verification, stashing your belongings in the locker and revision

Ensure that your pockets are emptied before you step in for a security check. Stationery will be provided at the exam center and you are not required or rather permitted to bring yours. 

Make use of your scheduled breaks to hydrate and replenish your system with glucose. This is extremely important especially on the first day of the INBDE (a two-day exam) to avoid fatigue. 

You are allowed to take unscheduled breaks from your exam but the clock continues to tick during the same. You can use the restroom or get yourself a cup of water from the cooler then. However, you will not be permitted to access the contents of your locker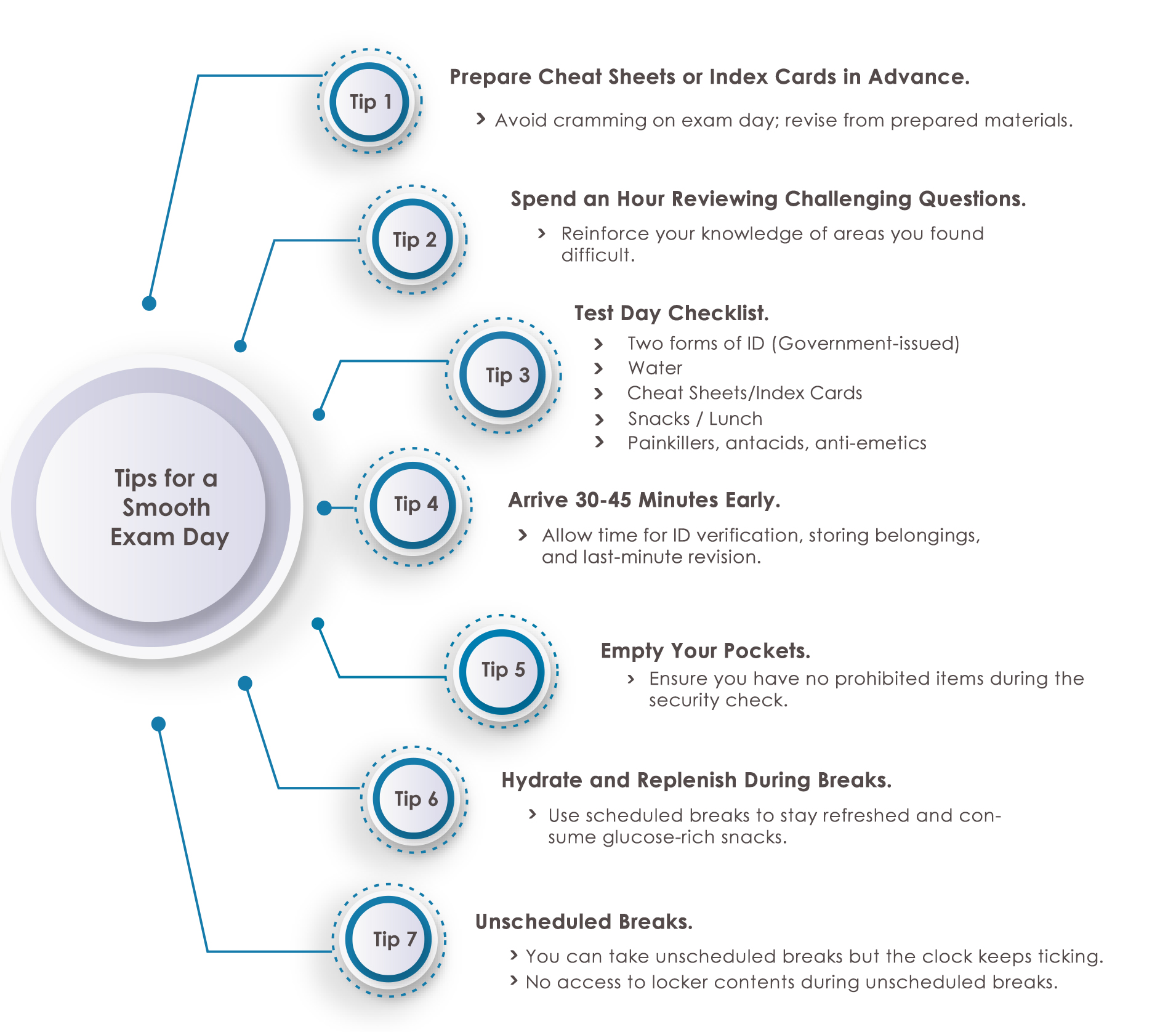 My experience preparing for the INBDE and ADAT. 
The question 'Was it worth the risk?': rang in my head louder than a song I was listening to on a loop on my flight back home to Chennai. My stint in Chicago had come to an end and I was going back to my routine in India: A full time job as an associate dentist and a part-time job of refreshing my inbox every half hour with no avail. Having completed the INBDE and the ADAT, I was anticipating the results for the same. Among these nerve-wracking moments, I sensed bouts of satisfaction and self-doubt as I reflected on how it began. 
Timeline:
Planning the preparation timeline and purchasing resources: March 2020

Comparison of study materials to standardized textbooks to identify unknown areas and weaknesses: March 2021

ECE evaluation completion: January 2022

Application for the INBDE and ADAT: April 2022

Preparation for the INBDE and ADAT: 

Clinical Sciences: March 2022-May 2022

Biostatistics: June 2022 (1 week)

Biomedical Sciences: June 2022- July 2022

Revision and practice questions: June 2022- August 2022

Test day (ADAT): August 24th  2022

Test day (INBDE): Aug 26th and 29th 2022
Resources I used to prepare for the ADAT
Biomedical Sciences (All sections)

First Aid for NBDE Part 1

Dental decks for Dental Anatomy

Clinical Sciences 

Mosby's for NBDE Part 2

Mental Dental

Shafer's textbook of Oral Pathology (occasional reference only)

White and Pharoah's Oral Radiology: Principles and Interpretation (occasional reference only)

Biostatistics 

First Aid for USMLE Step 1

YouTube videos on Biostatistics related problem solving by Randy Neil for the USMLE.

Practice questions 

ADAT Knockout 

CrackADAT (free version)
Alternative resources to consider
Dental Decks for NBDE Part 1 and Part 2 

B&B dental 

Dentin

INBDE Booster 
I was pursuing a mandatory clinical rotation at my dental school in India when I decided to apply for the INBDE and ADAT. In order to fulfill my eligibility requirements, I applied for attested copies of my transcripts from the parent university and got the Certificates of Eligibility (COEs) signed for the INBDE and ADAT signed by the Dean. 
Firstly, I emailed the scanned copies of the  COEs to JCNDE (This was permitted throughout the course of the COVID-19 pandemic). Secondly, I informed ECE regarding my inability to turn in my internship completion certificate and diploma as I hadn't completed my clinical rotation. This was followed by an application for a course-by-course report to be sent electronically to JCNDE. Though I assumed that I would receive eligibility to apply for the tests within a month, a cybersecurity issue at the ADA delayed the process by a month and a half. Eventually, I was able to apply for the exams and reserve my slots at the desired centers three months before the estimated test date. I decided to take the ADAT first followed by the INBDE to check a difficult exam off my list before easing into a mandatory requirement to apply to dental schools. However, I regret taking them two days apart. While the outcome wasn't affected significantly, it was a stressful phase which I brought upon myself. 
I took the ADAT at a Pearson Vue testing center within the Chicago Architecture Center. Once my identity was verified in the reception, I was asked to head to the testing center in the elevator. As I waited in line for the main identity verification, I hastily flipped through my notes attempting to cram some information that I couldn't recall. After verifying my identity, the proctor took me aside to have my photo taken. Finally, I was allowed to stow my belongings in a locker and walk towards the testing room with my ID and locker key. A proctor ran a security check, registered my fingerprints digitally, handed me a paper and a couple of markers and ushered me into the testing room. The testing experience was smooth with no technical difficulties. I used both the scheduled breaks to have granola bars, oranges and hydrate myself after which the proctor repeated the security measures before letting me inside the testing room. Once the test came to an end, I was asked to complete a survey, and a proof of test competition was handed over to me. 
One exam down. One more to go………..
The following day, I traveled to Merrillville, Indiana to take the INBDE. While I assumed that the recollection of information for the INBDE would be doable having taken the ADAT a day back, a bout of self-doubt had me hooked in fear. On the eve of the exam, I realized that I wouldn't be able to complete my revision in time for the INBDE. I stayed up all night frantically trying to test myself on various subjects. At 5 a.m., I began to panic. I called my family back home, expressed my concern, and considered rescheduling my exam. However, I realized that my impulsive and irrational thoughts were fueled by fear. I decided to reach the Prometric Center well in advance to ease my jitters. My testing experience was similar to that of the ADAT, though the INBDE was taken over a 2 day period with multiple scheduled breaks. The security check, however, was more stringent. I was asked to unfold my sleeves and collars this time. In addition, I was told that if I carried my face mask inside, I would have to wear it at all times. On the second day, as I stepped out of the testing room hoping that it was the last time I took the test, a proctor warned me about a 'Thunderstorm alert' that she had received. A clap of thunder followed….
Concomitantly, a notification on my phone brought me back to reality at home in Chennai. A fellow test-taker had received his INBDE results. Having received my ADAT  results a couple of days ago, I was more than ready to get this over with. I signed in to my account shakily to view the most awaited four letter word on the screen: 'PASS'. To date, this experience has taught me the importance of time management, setting realistic goals and believing in myself.